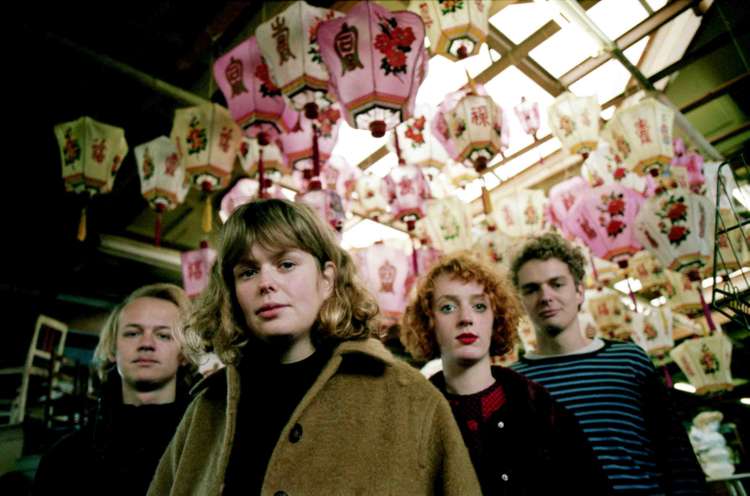 Heavy Pop presents:
SOLD OUT: PIP BLOM
Pip Blom + holiday ghosts + ADAM & ELVIS
£9 Adv. (Subject to Booking Fees)
Entry Requirements: 14+
Heavy Pop presents...
PIP BLOM
'If you've come looking for Britpop tinged indie bangers, step right this way' - Dork
'Fashioning lo-fi indie gems with melodies that will stick in your head for weeks' - Wonderland Magazine
Amsterdam's indie rock band PIP BLOM hit South Street Arts Centre in support of their debut album 'The Boat' on HEAVENLY RECORDINGS (Temples, Boy Azooga, The Orielles).
Their story...
22-year-old Amsterdam-based Pip Blom started writing, recording and releasing her own indie-pop tunes with a twist in 2016. Early songs, which were simply uploaded to the internet, quickly amassed thousands and thousands of plays - prompting Pip to recruit a band and start playing them live. In stepped brother Tender Blom on backing vocals and guitar, Darek Mercks on bass and Gini Cameron on drums, with Pip herself fronting on guitar on vocals. Since, the band have played more than a hundred gigs, rising from small pubs to the european festival circuit with performances at Eurosonic Noorderslag and The Great Escape - as well as being asked by the likes of Surfer Blood, Franz Ferdinand and The Breeders to join them on their various European tours.
The band's energetic live show quickly pricked the ears of press and radio - with Vice's music channel hailing Pip as 'ready to join the ranks of 2018's rising guitar acts', and BBC 6 Music A-listing recent singles 'I Think I'm In Love' and 'Pussycat'. The station's DJs Marc Riley hailed the former as 'perfect pop' with Gideon Coe branding it 'excellent' and, elsewhere, on the UK's most popular music station BBC Radio One, Pip Blom performed a live session at Maida Vale for Huw Stephens. Not bad going for someone whose early ambitions were to write a few songs and upload them to the internet in case people wanted to hear them."
Something special happened to Pip Blom at the tail end of last year. It was a busy twelve months that saw the release of her frenetic EP 'Paycheck', two A-Listed singles at 6 Music and support slots to the likes of The Breeders, Franz Ferdinand and Garbage. Capping that off, though, moments before stepping onstage at a sold out Lexington – the London stop-off on her debut UK headline tour – the band put pen to paper and signed to HEAVENLY RECORDINGS.
Plus support on the night from Holiday Ghosts + Adam & Elvis.
Heavy Pop: Drop It Like It's Pop
Line Up
Pip Blom
PIP BLOM Based in Amsterdam, 20 year old Pip Blom writes, records and releases her own indie-pop tunes with a twist. Although she only started releasing her raw guitar power with catchy melodies early 2016, she has already received acclaim from the likes of BBC Radio 1's Huw Stephens, BBC 6Music's Steve Lamacq and massive support from American tastemaker radio station KCRW. Besides that Pip received raving reviews from media like DIY Magazine ("A gem"), The Line Of Best Fit ("A gigantic dollop of catchy pop pep"), Fingers On Blast ("An exceptionally talented lo fi rock monster") and The Most Radicalist ("Hipnotically lo-fi and brilliantly simplistic"). Looking at the stats, besides her own The Netherlands, America and England are important markets for Pip's music with Amsterdam, London and Manhattan as major cities. The songs have been featured in influential Spotify playlists as New Music Friday, Fresh Finds, Indie Songs For Slackers and Absolute Alternative with almost 500.000 plays as a result! In 2016 Pip released the double A-side 7" release Truth / Hours on the Norwich based Grunt Grunt A Go Go label, the 3 track EP Are We There Yet on Toaster Records and limited edition 7" Working On It on the Paradiso Vinyl Club, the talent label of the prestigious Amsterdam club Paradiso. In februari 2017 Pip will release the single I Think I'm In Love, another catchy rocking tune, this time produced by Raven Aartsen from Mozes And The First Born. In april Pip and her band will tour the UK for the second time. Listen to Pip's music on for example Bandcamp: http://pipblom.com/album/are-we-there-yet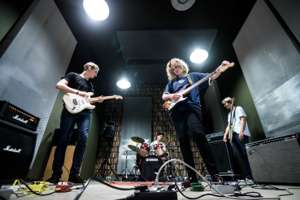 holiday ghosts