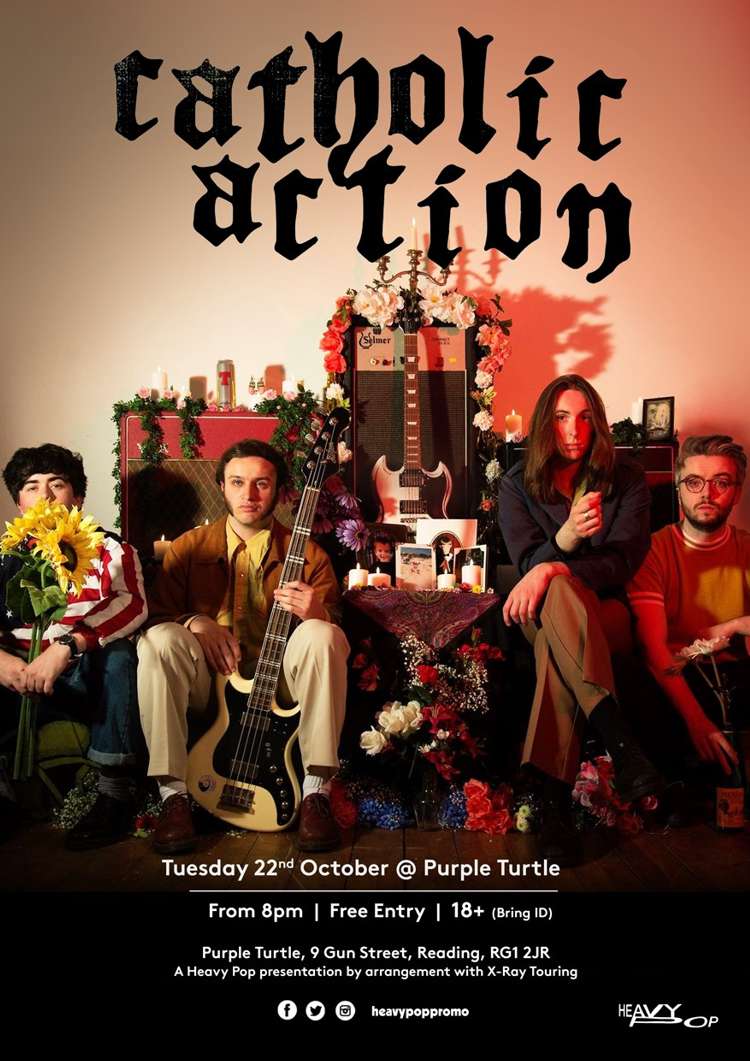 Heavy Pop presents:
CATHOLIC ACTION
Catholic Action + The C33s
FREE (SIGN UP HERE):
Entry Requirements: 18+
General Admission (e-ticket)
"they are very much a band 'of now'" London In Stereo "Setting their sights on success - DIY
Catholic Action formed in Glasgow, Scotland, in 2015 where upon impressing on the Glasgow music scene and released their debut album, 'In Memory Of', in October 2017. The album was later nominated for the much sought after Scottish Album of the Year Award (SAY Award).
In preparation of the release of their debut album, the band took UK Tastemaker festivals by storm, such as: Live At Leeds, The Great Escape and BBC Radio 1 Big Weekend.
The band have been championed by BBC Radio 1, NME, DIY amongst others and following the release of their debut album, the band performed showcases at SXSW Festival in Austin, Texas.
They followed this with a host of summer festival appearances In July 2018, where the band supported artists such as The Killers and Chvrches in front of 60,000 fans at TRNSMT Festival in Glasgow which cemented their reputation as one of Scotland's most sought after international exports.
They are now coming back to the Turtle with new music and we are looking forward to hearing it!
Plus support on the night from Special Guests (TBA).
Line Up
Catholic Action
Catholic Action are four young men from Glasgow. Led by 23 year old songwriter and producer, Chris McCrory - the band marry classic pop songwriting, art rock sensibilities and glammed up, melodic guitar playing - before squeezing it all through a slacker-pop filter and making a sound utterly their own. Gestating in the studio, writing and recording their debut album (due September 2015) before playing a live show - they finally appeared on stage in late 2014, immediately selling out their debut EP on their first tour.
2015 has been kind to Catholic Action so far, with numerous 'ones to watch' list inclusions (Including the BBC's Vic Galloway - a strong advocate of the band's music), their first festival bookings and several releases scheduled for the coming months on Glasgow's burgeoning Fuzzkill Records as well as two full UK tours scheduled for both March and May. Catholic Action are just getting started, but already it seems 2015 has a lot in store for this rather eccentric bunch from Glasgow.
A small sampler of the band's music is available here: https://soundcloud.com/catholic-action/sets/catholic-teaser/s-jB8xy
For more music, information and requests please contact catholicaction@hotmail.com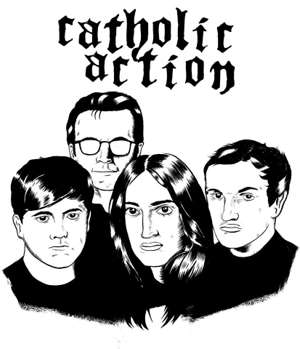 The C33s
The C33s are a 3 piece Garage/Punk/Rock band from Manchester consisting of Judy Jones (drums, vocals), Cav Green (guitar, vocals) and Ste Phillips (bass).
Their debut EP "48 Hours at Neon Palms" recorded mostly live over two days is a forward moving force of 70's inspired garage and punk with an injection of modern Manc attitude. "48 Hours at Neon Palms" is an explosion of sonic temper condensed in to no more than 12 minutes, which is all the time that's needed to make the point that there's still life left in raw, uncompromising rock n roll. Though the EP is raucous from the "gutter rock", the melodies and hooks in this band do not take a backseat. The constant dual Green/Jones vocals are unrelenting and furious, and are evidence of a band who's influences creep into psychedelia.
Forged in February 2018, The C33s released "48 Hours..." digitally at midnight on July 31st and within a few days had arrived to the scene with a bang! It's going to be very interesting to see where momentum of this band will lead them in both sound and size.