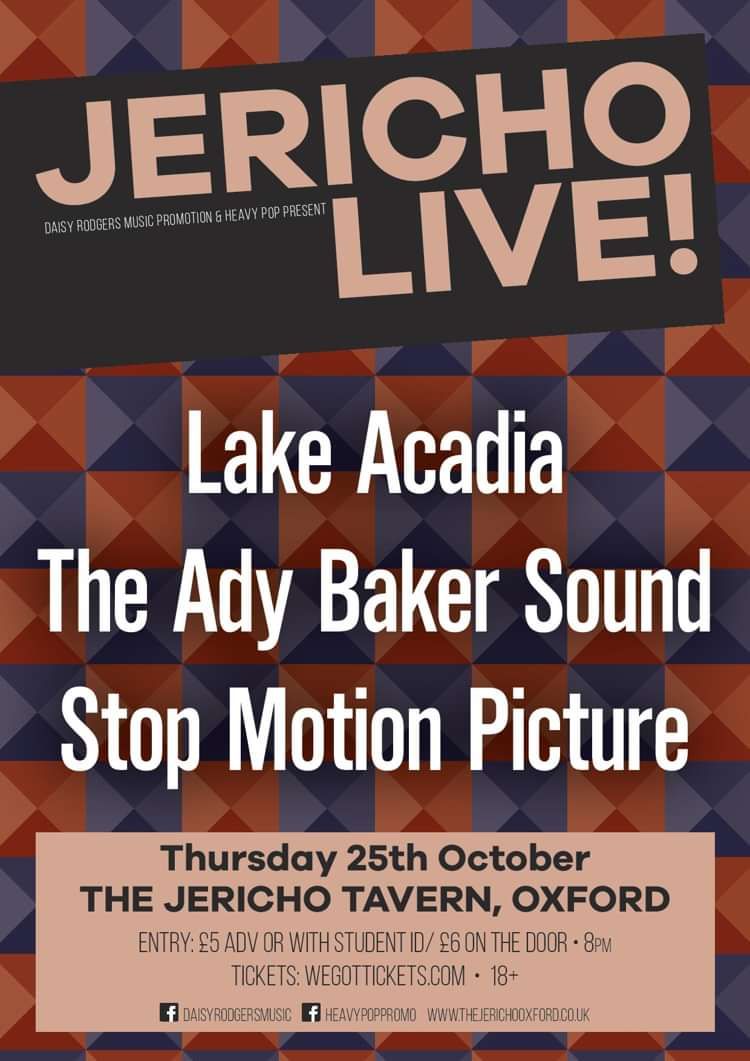 Heavy Pop presents:
JERICHO LIVE: Lake Acacia, Ady Baker Sound & Stop Motion Picture
Lake Acacia + The Ady Baker Sound + stop motion picture
£5 Advance - £6 On The Door - £5 with Student ID
Entry Requirements: 18+
Buy Tickets
JERICHO LIVE
Jericho Live - Last Thursday of Each Month - Thurs 25th Oct Line up: LAKE ACACIA + The ADY BAKER SOUND + Stop Motion Picture Doors 8 pm Entry: £5 Advance - £6 On The Door - £5 with Student ID Ages: 18+ Tickets: http://www.wegottickets.com/daisyrodgers
LAKE ACACIA
LAKE ACACIA are a fresh-faced alt-rock band hailing from Banbury consisting of Adam Budd, Tim Groethe and Joe Homer.
Debut EP 'Figure Frame' was released late last year and earned them a name for well-crafted, multi-dimensional music. Since the release, their track 'Hold Fast' from 'Figure Frame' has been featured on BBC Introducing, Oxford and a new EP is right around the corner, promising more energetic alt-rock goodness. Due to their diverse style of heavy riffs and three part harmonies they make a huge impact live from just three members combining these aspects.
"rock riffs of Muse meets the vocal roar of a hungry Lion"
THE ADY BAKER SOUND
Reading's 90's shoegazed inspired act The Ady Baker Sound make their Oxford debut.
The Reading collective use guitars, loops, samples, beats, harmonious & non-harmonious sounds to invoke melodies to haunt you.
"Death From Vegas tickling Ride"
Stop Motion Picture
They are new and they are good. Err.. yeah, there isn't much else to say, apart from pop down early to see them.
"that musical sound in your head you like is there, maybe?"
---
What is Jericho Live?
Oxford's Daisy Rodgers Music Promotions and Reading's Heavy Pop Pomotions collaborate on a monthly showcase at the Jericho Tavern: Jericho Live. Taking place the last Thursday of the month this will bring together three great acts from Oxfordshire and the surrounding area.
---
Check out our Spotify playlist for all the latest Jericho Live gigs here: https://open.spotify.com/user/113366199/playlist/1yyHjn2TBo0oyL2F6AzWUF
Line Up
Lake Acacia
Lake Acacia are an alternative rock band formed in Banbury, Oxfordshire and consist of members Adam Budd (lead vocals & guitar), Tim Groethe (bass guitar & backing vocals) and Joe Homer (drums, percussion & backing vocals).
Their diverse musical style ranges from heavy riffs to three part harmonies utilising each member of the band effectively whilst appealing to a wide target audience and delivering a huge impact live from just three members combining these aspects.
After taking part in other musical projects over the past few years, the band really started to come together and formed officially during July of 2016 whilst writing music and planning for their debut EP 'Figure Frame' which was released on September 22nd 2017.
Since the release of Figure Frame they have played various venues such as Also Known As, Banbury; O2 Academy, Oxford; The Wheatsheaf, Banbury and many more to follow. With plans to tour around the UK following the release of their EP they have already began work in the studio on a second EP to be released in 2018
The Ady Baker Sound
Ady Baker – (Vocals/Synths) Jim Dorney (Bass/ Guitar/Synths) Mark Summers (Guitar) Leo Brown (Drums)
The Ady Baker Sound is a Fuzz-Gazing Electro Trip-Beat Indie-Rock Four-Piece from Reading who play guitars, use loops, samples, drums, processed beats, high notes, flat notes, minor chords, major chords, harmonious and non-harmonious sounds to invoke melodies to unsettle you.
Are they the saviours of Indie Rock or new Electro-shoegaze pioneers? We don't know. What we do know is that they are the new favourites on the live scene in their hometown of Reading and gaining acclaim in other cities through their captivating, passionate performances and internet radio play.
With influences from Portishead to My Bloody Valentine and other musical affairs along the way, including a menage-a-trois between Primal Scream, Gorillaz and The Cure. The Ady Baker Sound apparently mix electronica, dark dream & psych-pop, avant-rock, trip-hop and modern alienation, although trying to describe their style is like playing pin the tail on the genre. The best thing to do is to go and see them play live - they'll be like putty in your hands.
Not ones for the random band name generator looking to create a name like "Agression Of Strain", "Shapeless Apollo And The Defined Complexity" or "Murdering Stroke" (although they quite like that one), the name The Ady Baker Sound was naturally born out of a mistake made by a promoter when then Solo artist Ady performed at the Readipop Festival and was advertised by an incorrect moniker and the name stuck.
The remarkable quality of The Ady Baker Sound is that they make a "sound" that conjures up familiarity yet uniqueness to boot. Is it The Fat White Family, Killing Joke, Gary Numan, The Charlatans? No, it's The Ady Baker Sound.
Their first gig was supporting The Members on their 40th anniversary "Sound of The Suburbs" tour in May 2017. Subsequently they were BBC Introducing Demo Panel winners and their debut single was play-listed on Phonic FM and RGNewMusic. Next they were called upon to support Dodgy at Sub 89 in November, and were named one of the best bands to see at the Are You Listening? Festival in Reading by Louder than War. More recently they supported Jesus Jones at The Boiler Room in Guildford in July 2018, and have been asked to support the Mull Historical Society in Oxford.
Their debut release was the acclaimed RGNewMusic and Phonic FM play-listed "The Autojector", which was released in 2017 on Musical Bear Records. With it's twisted lyrics and subject matter that could be filed in the "what the f*ck" annals of mad science history. It's dirty pop hook can be filed at the top of your Apple or Spotify playlist. Their most recent single "Never In A Month Of Sundays" was released for free on BandCamp (https://theadybakersound.bandcamp.com/releases) in April 2018
The Ady Baker Sound has just finished recording their new single O.N.E. which is due for release in November on Musical Bear 'Records'
Previous Releases Recovery Mode Free download https://soundcloud.com/adybakersound/recovery-mode
The Autojector Debut single released on Musical Bear 'Records' https://open.spotify.com/track/0O0NKAnD9obwods9Nvqlhs
Never In A Month Of Sundays Self released https://theadybakersound.bandcamp.com/releases
*Social Media * https://www.facebook.com/TheADYBAKERSound/
https://twitter.com/adybakersound?lang=bg
https://soundcloud.com/adybakersound
https://theadybakersound.bandcamp.com/releases
https://www.instagram.com/theadybakersound/
Upcoming Gigs 28.09.18 Railway Inn Winchester 12.10.18 The Cavendish Arms Stockwell London 13.10.18 Oxjam Reading Takeover The Pavlovs Dog 25.10.18 The Jericho Tavern Oxford 26.10.18 Readipop South Street Arts Centre 09.11.18 The Rising Sun Arts Centre
Contact info Deborah Thomas or Ady Baker theadybaker@gmail.com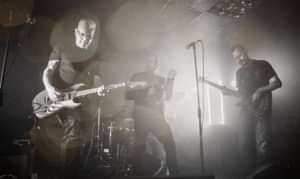 stop motion picture