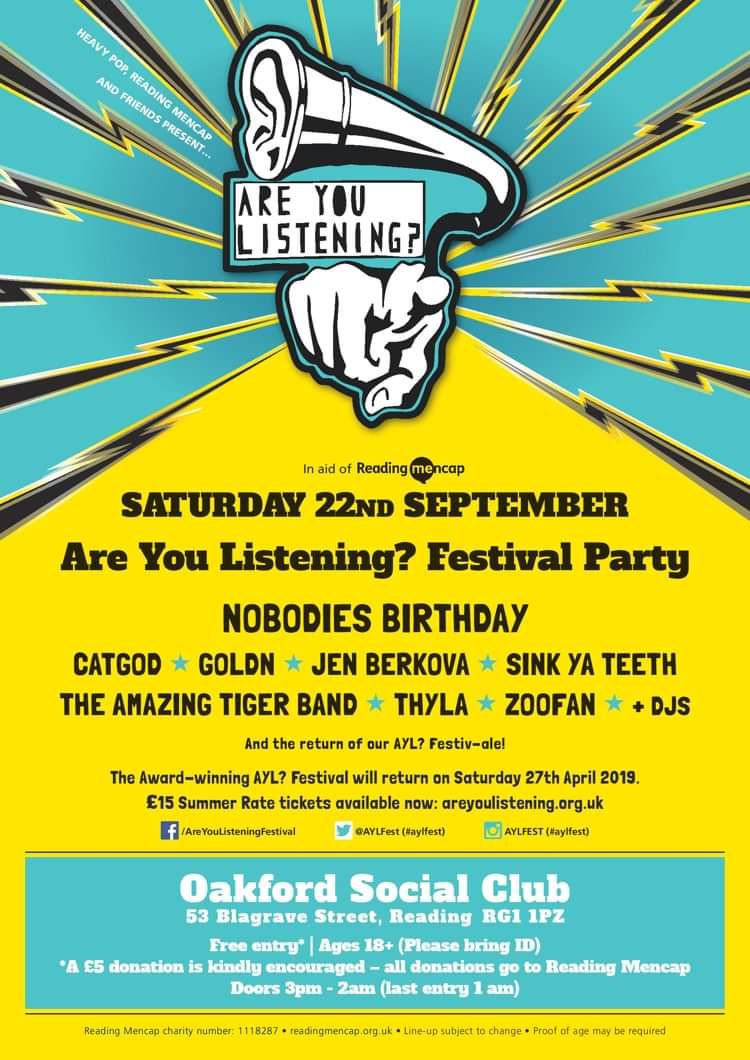 Heavy Pop presents:
Are You Listening? Festival Party
Nobodies Birthday + Catgod + Jen Berkova + Katy King + Sink Ya Teeth + The Amazing Tiger Band + Thyla + Zoofan
Suggested £5 Donation
Entry Requirements: 18+ (Bring ID)
ARE YOU LISTENING? FESTIVAL PARTY
Fresh from winning the 'Best Festival' award at the 2018 Reading Cultural Awards, Are You Listening? Festival are throwing a party to celebrate on the last day of the Summer.
We've got all our favourite bands and DJs playing all day and night, and as always, we will be raising money for local Learning Disability charity Reading Mencap.
THE LINE-UP
NOBODIES BIRTHDAY
CATGOD
JEN BERKOVA
KATY KING (VALERAS)
SINK YA TEETH
THE AMAZING TIGER BAND
THYLA
ZOOFAN
Plus LOADS of our favourite DJs ALL DAY & ALL NIGHT
Our collaboration brew with West Berkshire Brewery, AYL? Festiv-Ale will be on tap, with money from every pint sold going to Reading Mencap.
---
Are You Listening? Festival 2019 - Sat 27th April 2019
£15 Summer Rate Tickets for AYL? Festival 2019 are on sale NOW at www.areyoulistening.org.uk/tickets
Line Up
Nobodies Birthday
Click 'Shop' to take advantage of Nobodies Birthday's free music here on MusicGlue today!
NOBODIES BIRTHDAY are an indie rock band from Reading, Berkshire. The band consists of Dom (vocals), Steve (rhythm guitar), Ryan (lead guitar), Tom (drums) and Brendon (bass guitar).
The band have become known for energetic live shows and catchy riffs and have been playing shows across the South for almost 2 years.
To contact the band please email nobodiesbirthday@live.com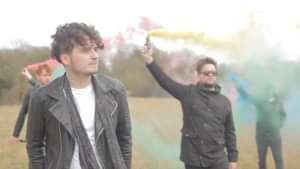 Catgod
We're a five piece Oxford based band centred around siblings Cat and Robin. In 2017 our single Someone Love was featured by Lauren Lavern as her Headphones Moment on BBC 6 Music. We were also selected by BBC introducing to play Truck Festival and BBC Uprising Showcase at the O2 Academy Oxford and selected by Nightshift Magazine to play Rob Da Banks Common People Festival. We have just supported Flyte and headlined Sofar Sounds Oxford.
Press Quotes from Single 'Someone Love' and last LP 'Ready When You Are' I heard this and loved it - Lauren Laverne Eclectic and emotion-strewn fusion of genres - Gig Slutz Musically sprinkled with charm. Infectiousness. - BBC Introducing Earliest shout for Record of the Year - Ocelot Magazine Excellent debut album - Nightshift Magazine The tunes by some of these artists are completely extraordinary - as we are about to find out - Tom Robinson The listener minded of watching a spider build it's web at dawn. - Emerging Indie Bands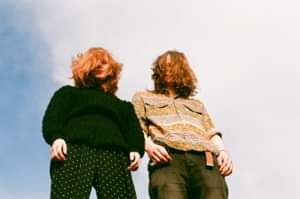 Jen Berkova
Katy King
Sink Ya Teeth
The Amazing Tiger Band
Thyla
Based in Brighton, UK. Thyla majestically blend glassy distorted guitar tone with driving rhythms and lilting ethereal melodies; front women Millie Duthie brings crystal like beauty to Thyla's blend of dynamic alt-rock. Herself, Danny Southwell, and Dan Hole met at college in early 2015 and found instant musical companionship but it wasn't until guitarist Mitch Duce joined, that the band found their sound. They spent much of late 2016 reimagining their centre and writing and recording new music that garners a distaste for the stale state of the industry.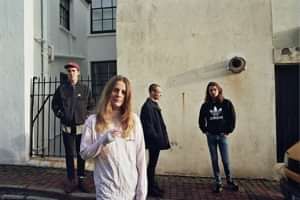 Zoofan