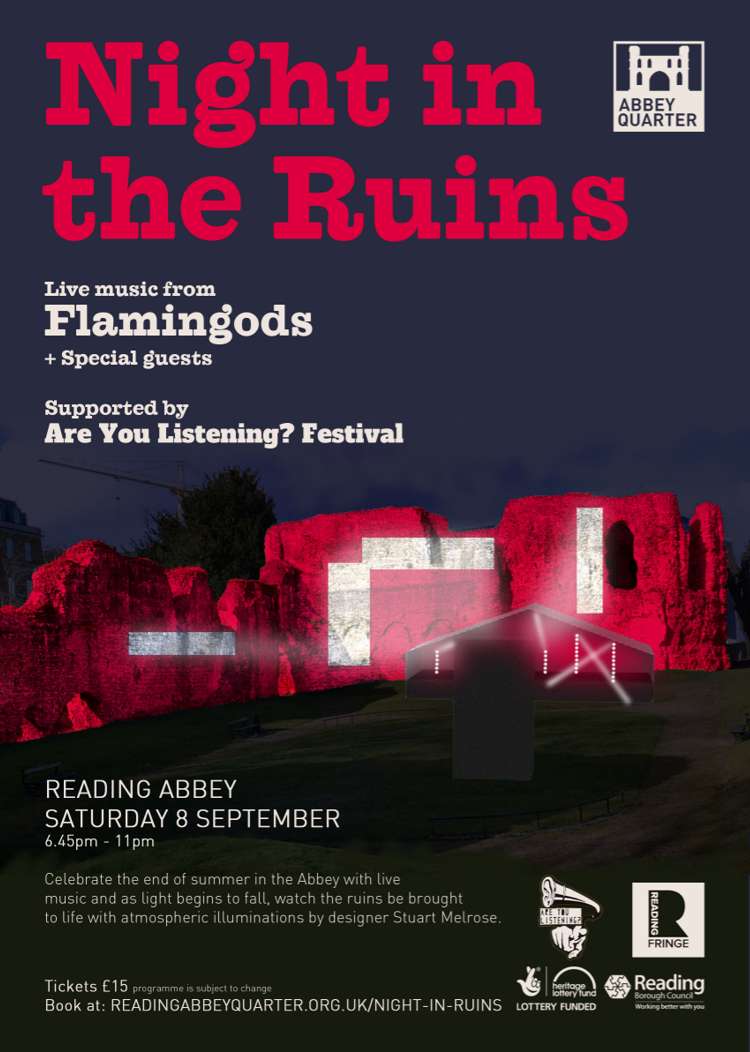 Heavy Pop presents:
Night In The Ruins with Flamingods & Special Guests | SOLD OUT
Flamingods + Febueder + Limpopo Groove
£15 Adv (Subject to Booking Fees)
Entry Requirements: All Ages
Celebrate the end of summer in the Abbey with live music and as light begins to fall, watch the ruins be brought to life with atmospheric illuminations by designer Stuart Melrose.
Supported by Are You Listening? Festival & Reading Fringe Festival.
Bar by Blue Collar Street Food.
---
THE LINE-UP
'All hail Flamingods and their psychedelic music for the soul' - i-D
Flamingods are a four-piece, multi-instrumental, multi-cultural band from Bahrain & London formed in 2010.
The group explores and experiments with an array of influences from Western psychedelia, jazz and indie to a wide-eyed obsession with music from the East. Using a vast selection of instruments from the Middle East and Asia, the band marries this with Western instrumentations of synthesizers, guitars and drums to create a potent sound all of its own that they call 'Exotic Psychedelia'.
Flamingods are one of the most unique and powerful live acts out there.
Febueder are an alternative indie duo from Ascot, England, composed of lead vocalist/multi-instrumentalist Kieran Godfrey and percussionist Samuel Keysell.
On April 6, 2018, Febueder released their new EP 'All a Hoax' featuring mixing from Marta Salogni (Bjork, Frank Ocean, The XX) on singles 'Hans' and 'Paramount Tether'. The EP exceeds expectations from publications like NME, The Line of Best Fit, GoldFlakePaint, Indie Shuffle, CLASH, and DIY, and positions Febueder as one of the UK's bands to watch.
Limpopo Groove is an established, upbeat, afro-fusion group for all ages and walks of life. "Simply the BEST band in Reading", they play infectious, lively music, inspired by founder Tomson Chauke's Zimbabwean homeland. With original songs written in Shona and English, these seven musical members blend jazz with tribal beats and European influences to create catchy rhythms that crowds just can't help dancing to.
*Programme is subject to change.
Line Up
Flamingods
Flamingods have recently finished an extensive year-long tour promoting their third album 'Majesty', which came out in June last year through Soundway Records. 2016 saw the band go from strength to the strength, performing at a number of key music festivals both in the UK and Europe. This included notable UK festivals such as End of the Road, Latitude, Green Man, as well as performing abroad at festivals such as Fusion Festival in Germany, and Eindhoven Psych Lab in the Netherlands.
Flamingods aren't slowing down in 2017, with a number of gigs already lined up throughout the year including performing at SXSW in March, as well as Field Day festival in June. The band is also currently writing and recording a follow-up EP to 'Majesty' including rediscovered jams throughout the band's history that range from straightforward upbeat songwriting to their more signature exotic psychedelic sound.
On 'Majesty', Flamingods have taken their sound in a new direction, brimming with diverse influences that reflect their multi-cultural backgrounds. The shimmering 10-track album crosses blissful psychedelia with a rich spectrum of the band's sonic inspirations. The album also garnered praise from BBC 6Music, who included 'Jungle Birds' as a playlisted single. The band also performed two live sessions at 6Music with Lauren Laverne in September and Gilles Peterson in July, along with an interview with Tom Ravenscroft.
For more information, tour dates and general news, check out www.flamingods.com
"All hail Flamingods and their psychedelic music for the soul!" i-D "Prepare to be bombarded by bliss… Out of this world music" The Guardian "One of the most experimental psychedelic bands in existence" Matt Wilkinson, Beats 1 "One of my favourite things i've heard this year" Tom Ravenscroft, BBC 6 Music
2017 Tour Dates
21 Jan - Lewes Psych Fest, Lewes 26 Jan - The Boileroom, Guildford 10 Feb - Video Jam presents Baraka at the RNCM, Manchester 11 Feb - Grasnapolsky Festival, Apeldoorn 23 Mar - Convergence, Village Underground, London 04 April - Tremor Festival, Azores Islands, Portugal 22 April - Are You Listening? Festival, Reading 29 April - Live at Leeds, Leeds 13 May - The Soundcrash Fun & Soul Weekender, Camber Sands UK 03 June - Field Day, London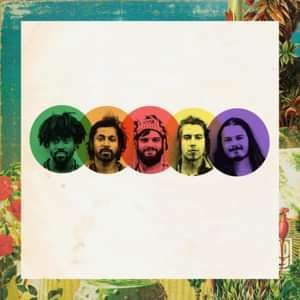 Febueder
Limpopo Groove